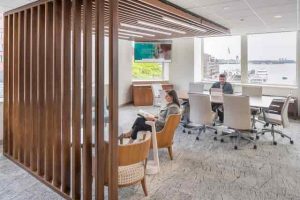 Architectural firm Dyer Brown renewed the Sappi North America headquarters in Boston, Massachusetts, using eco-friendly finishes, materials and fixtures to meet sustainability and employee health goals.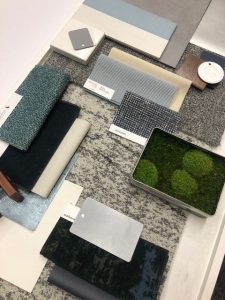 Since Dyer Brown is in the midst of an overhaul himself, he selected manufacturers and product lines that he had pre-verified. "Our team has led an extensive effort to completely overhaul our materials library, eliminating all products with known human health risks and introducing new, greener, healthier alternatives," said Laurel Christensen, AIA , WELL AP, Dyer Brown's Sustainable Design Manager. .
With Dyer Brown's project manager, Schuyler Pratt, coordinating efforts, the design team pursued cost-effective, low-waste strategies, which also maximized visual impact on visiting customers. At the entrance, a waiting area flanked by live moss walls showcases the client's mission and culture to staff and visitors, while less obvious design elements streamline workflow and reduce needs in materials and energy. Focusing on areas near the entrance and reception area, including meeting rooms, an employee pantry and a breakout area, Dyer Brown introduced collapsible and retractable walls to subdivide the rooms into collaborative spaces.
Sappi is a multinational company known for its innovations in raw and processed wood fiber, emphasizing sustainability by relying on renewable resources. Dyer Brown had been made aware of the need for an aesthetic redesign of Sappi's headquarters, which was well aligned with its corporate culture, mission and brand image.
The new headquarters covers a reduced area of ​​1,672 m2 (18,000 square feet), in response to Sappi's desire for a slimmer, consolidated workspace spread across a highly functional and flexible layout.