Rustic Scandinavian interior design is a great way to blend the stark simplicity of Scandinavian decor with rich, organic, inviting materials in your home. With their common emphasis on nature, these two interior design styles have become the perfect duo for homeowners looking for a rugged yet refined look for their spaces. Below is everything you need to know about rustic Scandinavian design and how to achieve this stunning look in your home.
What is Rustic Scandinavian Interior Design?
Rustic Scandinavian interior design is achieved by blending both rustic and Scandi decor. This pairing may seem unusual at first glance. Where rustic decor is well known for its dark, woodsy interiors, Scandinavian design is often dominated by stark color palettes and minimalism. However, these two design styles have a few details in common that allow them to blend in beautifully with any room. For example, both styles incorporate raw materials and unfinished pieces of wood into their aesthetics.
Below is a more in-depth look at Scandinavian design and rustic interiors to help you better understand how these two seemingly opposite design styles have come together to create a unique and cozy aesthetic.
What is Nordic hygge style?
The Nordic hygge style is part of the Scandinavian design family tree and focuses on the Danish idea of ​​'hygge', which is the feeling of being content with the simple pleasures in life. The Scandinavian design style generally uses Nordic-inspired designs and mountain home decor. Therefore, when aiming to mix Scandinavian and rustic home decor, many designers lean into the Nordic hygge style to strike a comfortable balance.
You might be wondering, "What characterizes Scandinavian interior design?" Scandinavian decor is often created with minimal decor, bright color palettes, and unfinished light wood furniture. However, Nordic and hygge styles expand on this idea by inviting softer lighting, clutter, textiles, dark wood tones and comforting décor into home decor. Thanks to this sub-sector of Scandinavian interior design, designers can better combine style with rustic décor to create the perfect mix.
What is Rustic Home Decor?
Alternatively, rustic interior design relies heavily on dark tones, wood materials, masonry, dark color palettes, and lots of natural or organic elements. Unlike traditional Scandinavian decorating, rustic design focuses on lots of layering and furniture that provides a warm and cozy feel. However, rustic interior design also shares similarities with Scandi decor through unfinished or raw wood tones, an emphasis on natural materials, and a cozy cabin or mountain aesthetic.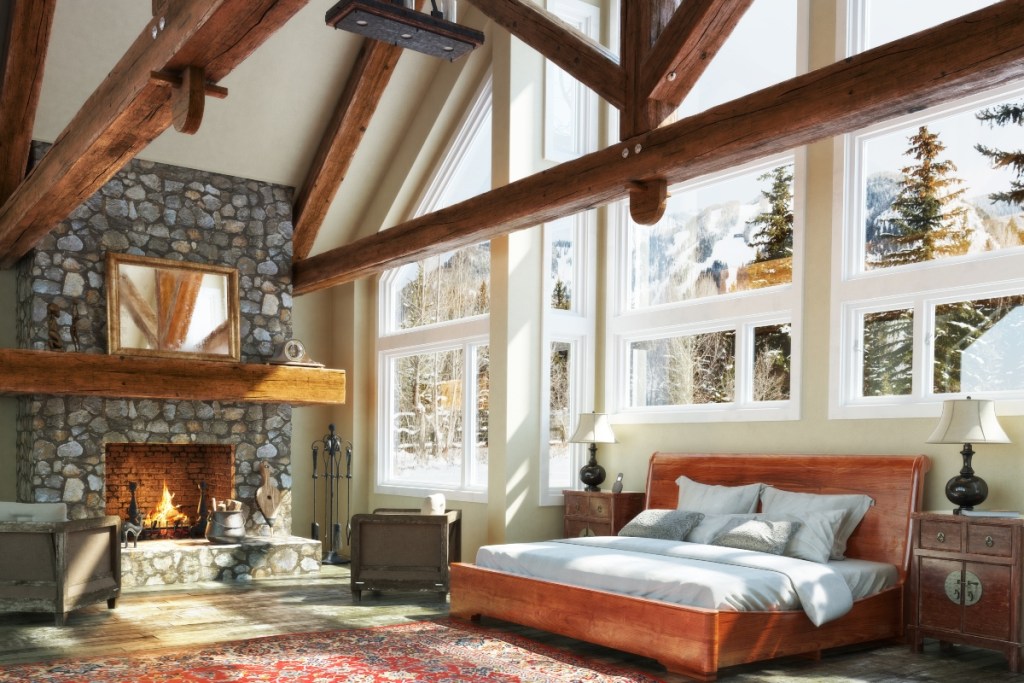 How to achieve a rustic Scandinavian interior design
Achieving the rustic Scandinavian interior design style is simple. While it's important to blend the two opposing aesthetics, they share enough elements in common that you can still create a cohesive look.
Bright and contrasting color palettes
An easy way to mix these two design styles is to use bright, contrasting colors. Use white as the base in your color palette, preferably a shade that looks cool or has a blue undertone. Then pair that shade with darker hues like rich brown, black, or steel gray. Combine warm and cool hues to create the perfect look in your design. The key factor is to strike a balance between warm, dark hues and cool, light hues to create the best effect. The contrast will help you create the perfect juxtaposition between rustic and Scandi decor.
Organic and natural decor
Although the color palettes of these two design styles are at opposite ends of the color spectrum, the styles promote both organic and natural decor. For this reason, we recommend that you focus on using lots of natural decor in your design to create a cohesive union. Organic pieces like rugs or fur (or faux fur) blankets, masonry, wooden tables and chairs, woolen blankets, plants and other natural decorative pieces are great choices for creating a rustic scandinavian look. Using a variety of natural materials is a great way to create more dimension and balance in your design.
Unfinished pieces of wood
Another similarity between Scandinavian and rustic aesthetics is that both styles make heavy use of unfinished pieces of wood. However, Scandinavian designs often use light woods, while rustic styles prefer dark-toned materials. So if you're aiming for a mix of these two design styles, there are two ways you can go about achieving a cohesive look.
First, you can consider using medium-colored wood pieces. Choose unfinished wooden tables, chairs, or other accent pieces and make them from a medium-toned wood like oak or elm. Your second option is to enhance the contrast between these two design styles by pairing your light-toned wooden pieces with a darker color palette and pairing darker-toned wooden furniture with a lighter color palette. Using wood tones like birch and aspen with a dark background, or walnut and hickory tones with a white background, will help create more visual contrast in your design.
Layered fabrics
Another way to create a beautiful union between Scandinavian and rustic decor is to layer your fabrics. For example, opt for layered rugs, multiple blankets on furniture, and draped fur or faux fur textiles over wooden chairs or benches. By layering your fabrics, you can add more texture to the overall design and address rustic design's need for organic textiles. Plus, layering your fabrics helps to enhance the hygge quality of your design, which will help bring out more Scandinavian influences.
However you mix these two design styles, it's important to aim for a balanced look. Try not to lean too heavily on Scandinavian or rustic design. Instead, focus on creating contrast with your color palette and textures, and remember to aim for a comfortable hygge aesthetic that will help you blend these two opposing styles seamlessly.
Editors' Recommendations